I'm Heidi Mok—a creative problem solver, digital product designer, educator, runner, and map lover. My mission is to discover and translate everyday moments of life into thoughtful experiences that improve the way people live, work, and play.
On the day-to-day I work as a product designer at Kira Systems where I help shape a machine learning software product used by lawyers and other professionals to analyze contracts. I am also a sessional instructor with the Faculty of Design at OCADU where I teach a third year core studio class on Systems Thinking.
Previously I was a Manager of Design Strategy at Bridgeable where I spent 8 years applying human-centered design methods of problem solving to business challenges. I collaborated on small and large scale innovation projects in Canada and the US spanning healthcare, financial services, retail, and non-profit.
I hold a MA in Advanced Spatial Analysis and Visualization from UCL (University College London) and a BA in Industrial Design from OCADU.
Beyond the 9-5 you can find me running, making things, and contemplating both the deep and silly aspects of life. From time to time I'll post an introspective, city/mapping related article like the Principles of cartography applied to service blueprinting and Personal Powers of Ten.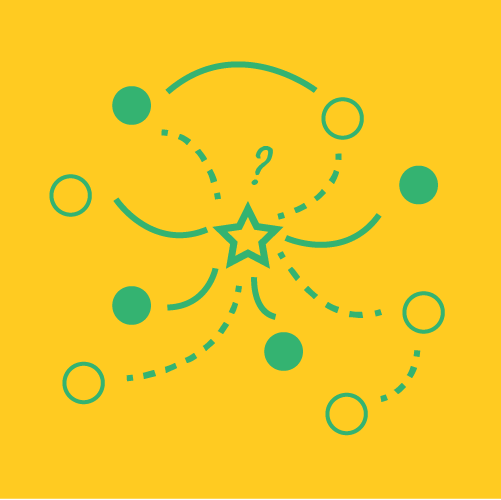 Look for the invisible lines that connect things together.
Go a layer deeper to get to the heart of something. Scale out to see how things fit within a broader context.
Don't wait for perfect before sharing work.
Translating Research to Action
Moving from head knowledge to ideas that can be implemented in the real world
Planning and facilitating participatory workshops to help diverse groups bring their ideas to life
Thinking with my hands and always showing process work
Comfortable with Ambiguity
Leaping forward amidst uncertain circumstances
Improving National Infrastructure Through Design
Working with UK Universities on the Multi-Scale Infrastructure Systems Analytics (MISTRAL) project to tackle the challenge of improving National Infrastructure by collaborating with data modellers to translate model outputs into compelling communications.
Improving Financial Well-Being
Understanding the current and future state experience of financial service customers and identifying opportunities to improve those experiences.
Uncovering Cannabis Enthusiasts' Buying Experiences
Understanding how cannabis enthusiasts make purchasing decisions, how they assess quality, and what their behavioural differences are through live learning lab sessions.
The Future of Patient Experience
Supporting a large pharmaceutical to develop an innovative enterprise-wide strategy and approach to patient-centricity.
Helping a microfinance organization improve their existing lending and mentorship model for entrepreneurs living with mental illness and addictions based on shared needs between the organization and their clients.
Co-leading a 2.5 day hands-on innovation training workshop for multi-disciplinary staff members at St. Lawrence College to achieve their goal of helping students develop the innovation skills required to be successful in the workforce.
Co-Creating Models of Alzheimer's Care
Overcoming uncertainties in strategic planning within the Alzheimer's care space by co-creating likely future scenarios with leading specialists, payers, administrators, and technologists.
Linking Citizens and Open Data
Exploring and prototyping a workflow to teach citizens how to use open data in a meaningful way.
Exploring 2D and 3D methods of visualizing race data from the 2015 London Marathon. The video lives here.
Secondhand clothing donation service design
Designing a clothing donation service that makes the process of giving away your old clothes more dependable and socially-minded.